Z-OFFICE 80s Movie Poster Design
Z-OFFICE movie poster designed in After Effects
directed by Douglas Stahl


(coming soon)



The poster was designed in....After Effects! Why?! Because since I'm using After Effects way more often than Photoshop or Illustrator I was able to crank this out in less time.
2nd reason: I was using footage and scenes from the actual film to honor the 80s. So a lot of work was already done. I "just" had to compose it together, create an acceptable painted look, make the titles, done.

In After Effects I know 100% what I'm doing, blind fooled. It's my favorite tool for a direct brain-to-screen connection. I sure know how to use Photoshop but I always need a little time to reorientate, planning my steps, make sure I get the right results.
Working in After Effects is a different thing. I'm more comfortable with it. I literally can simulate my next steps in the shower and click them down when I get back to work. The truth is, in the end it doesn't matter which tools one is using. If you find your perfect way to express your creativity and bring your ideas to life, just do it.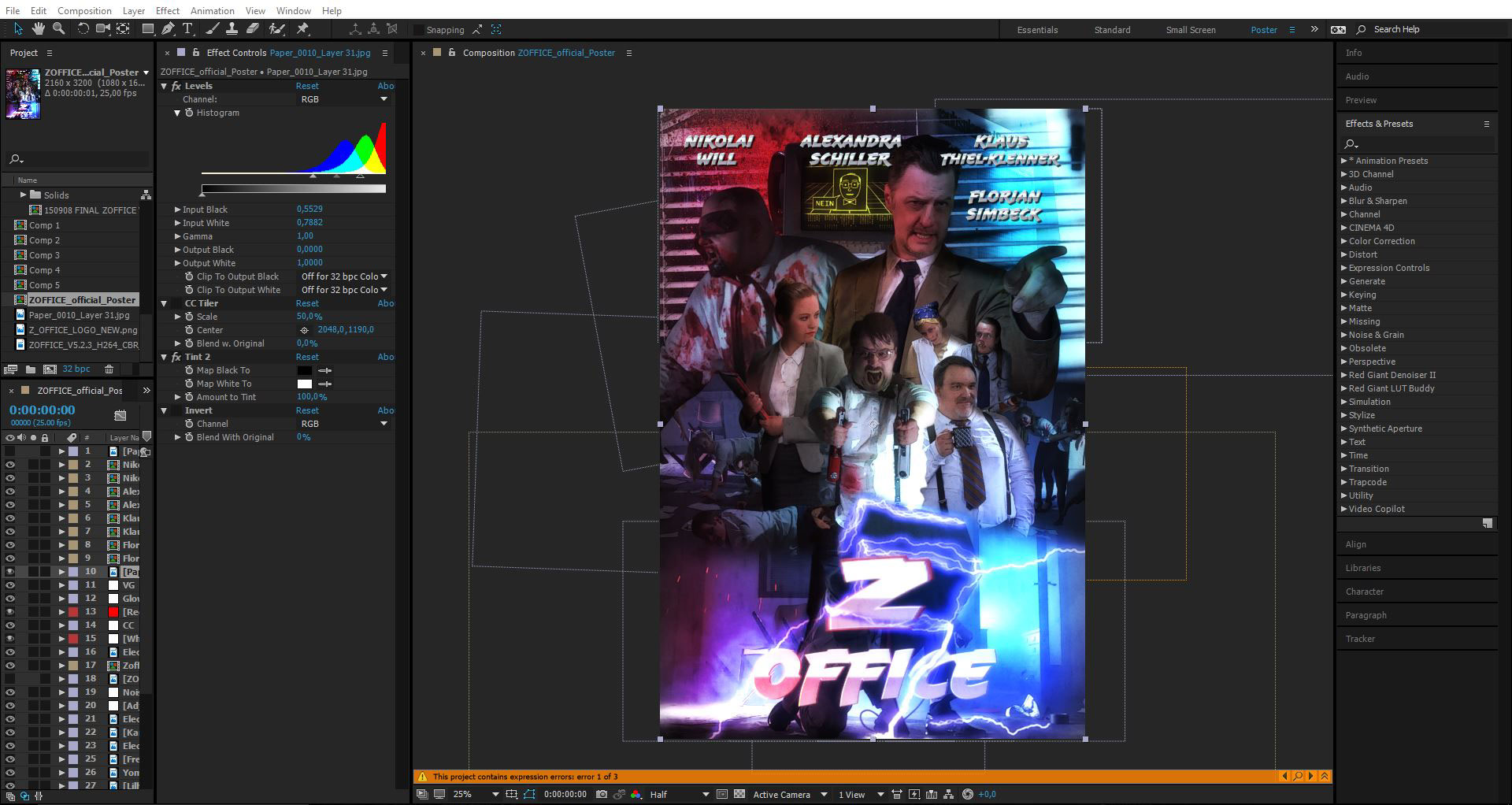 Z-OFFICE is a crazy over the top horror comedy and a hommage to good old low budget action flicks like Robocop, Dawn of the Dead Mad Max etc.
 
Cast:
Karl - Nikolai Will
Fred - Klaus Thiel-Klenner
Lilly - Alexandra Schiller
Boss - Florian Simbek
 
Plot:
Karl is fired after 14 years working in an administrative office. While he tries to get his job back a virus infects his work place and turns his co workers into mindless, tie wearing brutes. With the help of his friend Fred (Klaus Thiel-Klenner) and long term
intern Lilly (Alexandra Schiller) Karl fights back with all his office skills: stapling - filing - copying!